Spring Cleaning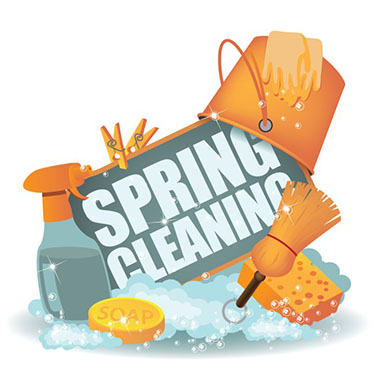 We've come through a long winter, the birds are chirping, and days are longer. Now you know what that means…it's time for spring cleaning!! You might think that's something that's just for the home, but it is something that can (and should) be done in the lab as well! I'll outline some tasks that should be done and things to think about during your lab clean up.
The most basic things to do are general tidying up, such as getting rid of old boxes, shipping containers, magazines, advertisements, paperwork, and other things that can clutter up your workspace. It will be easier to maneuver your supplies and conduct safe experiments with a clean, clear workspace. When doing this general cleaning, don't forget to defrost your freezers! Ice buildup can make the shelves uneven, can freeze your chemicals inside of the ice, which can damage the container, and can take up valuable storage space.
It is also advisable to go through the laboratory's chemicals. During this time you should dispose of any outdated, expired, or unused chemicals, paying special attention to peroxide formers such as dioxanes, tetrahydrofuran, and ethyl ethers. Please note that chemicals can be disposed of free of charge through IUPUI EHS. As you go through your chemicals, it is an ideal time to update the lab's chemical inventory and check your reportable chemicals list as you will know exactly what chemicals are in your lab and how much of each chemical you have. An up to date reportable chemicals inventory will also have your lab ready for the annual Laboratory Safety Inspection.
You should take this opportunity to evaluate the procedures that you are utilizing your chemicals for and see if there are any safer substitutions that could be made. For instance, Prudent Practices suggests avoiding solvents that are listed as select carcinogens, reproductive toxins, or hazardous air pollutants and gives examples that heptane could replace hexane and toluene could replace benzene (page 86). With that being said, ensure the substitute chemical is compatible with the chemicals and processes used in the experiment.
It's not just chemicals that you can review during a spring cleaning. You should also take some time to evaluate the practices and techniques used in the laboratory as well as review the lab's SOPs. You can check if any procedures need to be updated or changed (you can also ensure SOPs are available for any new procedures that the lab may have started performing in the last year). You can also evaluate your procedures to determine if there are less hazardous methods that could be used or safety checks that could be added. For example, Prudent Practices suggests that, when possible, smaller scale experiments (producing less product), which results in less reagents being needed and less waste being generated (page 84), should be carried out. In another example, the authors highlight that column distillation is less hazardous than thermal distillation, as heating devices and reactive metals are not utilized in thermal distillation (page 160).
During your laboratory spring clean is an excellent time to check up on everyone's training records. You should use this time to verify all employees are up to date on required training. For more information on determining what training is needed you can view the link found here or email our office at ehs@iupui.edu. You can also click here for guidance on how to find your training records.
You must have an updated business continuity plan so this is also the perfect time to review yours. If your laboratory does not have a business continuity plan, resources and information can be found here. Spring is the time of year when we have the greatest potential for severe weather, so it is vital that you have continuity plans in place should a severe storm strike campus or prevent employees from being able to make it into work.
Now that spring is here, please take some time to do a spring clean of the lab, just like you would at home. It will help clear lab space and ensure your laboratory is compliant and up to date. You could even make a fun day of it and bring some treats for everyone to enjoy in the break room at the end of the day! Happy cleaning and stay safe!